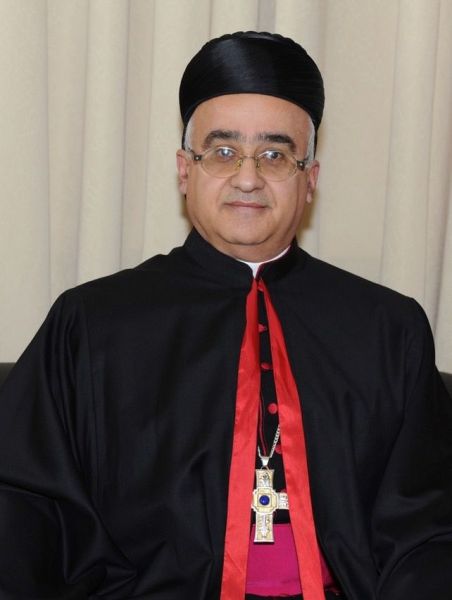 Monsignor Hanna ALWAN, Titular Bishop of Sarepta di Sidone dei Maroniti.
Patriarchal Vicar General of the Patriarchal Eparchy.
Patriarchal Vicar for legal and legislative affairs.
Member of the Permanent Maronite Synod.
Member of the Episcopal Court of the Synod of Bishops of the Maronite Church.
General moderator of the Unified Maronite Tribunal in Lebanon.
Legal consultant to the Congregation for Oriental Churches in the Vatican.
Professor of Eastern Jurisprudence at the "Rotal Studio" at the Vatican.
President of the Episcopal Legal Commission of the Assembly of Catholic Patriarchs and Bishops in Lebanon.
Pontifical Delegate to the Maronite Mariamite Order.
Patriarchal moderator at the Maronite Cultural Center.
Patriarchal moderator with the National Cooperation League.
Msgr Hanna Alwan is a member of the Congregation of the Lebanese Maronite Missionaries, where he was ordained priest in 1981. He followed his complementary and secondary studies at the College of Apostles, and his institutional studies of Philosophy and Theology at the Catholic University of Fribourg in Switzerland and at the University of Kaslik in Lebanon.
He obtained a doctorate in Utroque Jure (in both canon and civil law) at the Lateran University at the Vatican. He was consecrated bishop on September 16, 2011.
Msgr Alwan was appointed Prelate Auditor in 1996, and he has worked as a Judge at the Apostolic Court of the Roman Rota for 22 years, after having served as Promotor of Justice at the same Apostolic Court for six years. He has taught at several universities in Lebanon, Italy and the Vatican, as well as at the "Rotale Studio" in the Vatican so far. He opened the Pontiff Maronite College in Rome in 2000, after its closure during the Second World War, and he presided over it until 2011.
He has worked as a Commissioner as well as a Consultor with several Vatican Departments. He has published several articles in various books and specialized legal reviews in French, Italian and Arabic.
Within the Maronite Church, he chaired several Episcopal Commissions as well as the Episcopal Court of the Synod of Bishops for four years, when he was General Moderator of Justice of the Maronite Church in the patriarchal territory.